Motoring
Submitted by

Richard

on 01 Mar 2018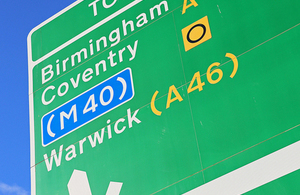 Just announced: you can drive on the motorway with your fully qualified driving instructor from the 4th of June 2018.
Submitted by

Richard

on 16 Jan 2017
Edit: This is supposed to be passed into law by parliament in 2018. Don't hold your breath...
Recently the news has been full of reports of learners driving on motorways. This will take a long time to pass into law, and take effect. It might not actually happen.
Read more here:
Open consultation: allowing learner drivers to take lessons on motorways
If you want to respond to the consultation, you have until 17 February 2017.
I'd quite like to train provisional licence holders on motorways. After passing your test, there wouldn't be that worry about the unknown.
Submitted by

Richard

on 15 Jul 2015
From the Department of Health:
From From 1 October 2015, private vehicles must be smokefree if they are enclosed, there is more than one person present and one of them is under 18. So it will be an offence: for a person of any age to smoke in a private vehicle that is carrying someone who is under 18 for a driver (including a provisional driver) not to stop someone smoking in these circumstances The rules don't apply to e-cigarettes."